Crawl Space access & Window Wells Installed Near Concord, Burlington, Keene
Save Money By Keeping Heat In And Cold Out Of Your Crawl Space!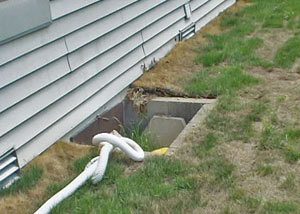 Old-fashioned crawl space access wells are often drafty and leaky, and they can allow pests and animals into your home.
Crawl space access wells are often ugly, unsightly pits that are generally seen as a necessary evil in a home. More often than not, they're made out of concrete, wood, or even metal.
Over time, these wells will begin to fill with leaves, plants, and debris. The wood will rot, the metal will rust, and when it rains or snows, they'll fill with water, flooding the crawl space.
At Northern Basement Systems, we specialize in crawl space repair. We can install covered crawl space access wells that will not allow water to leak into your crawl space and will never rust, rot, or corrode.
Contact us today for a free quote on crawl space access wells! Our installers work in Keene, Concord, Burlington, Essex, Colchester, Plattsburgh, NY, Rutland, Laconia, Bennington, South Burlington, Claremont, Hanover, Suncook, Milton, Berlin and many nearby areas in Vermont and New Hampshire.
Covered Crawl Space Entry Well
The Turtl™ is a durable plastic crawl space access well that we offer as part of our crawl space vapor barrier system. Providing an airtight cover, it serves as a crawl space access well AND door combined!
Made to replace those old concrete, wooden, or metal crawl space access wells, it's just what you need for a more attractive and long-lasting choice. Available in green, brown, and beige, we have a color to match nearly any home.
"The Turtl™" Specifications
Long-Lasting Durability -- The rigid plastic design will hold up to daily wear and tear. Its rigid plastic design ensures that it will never rot, rust, or need paint.
Lockable Design -- For increased security and protection, the Turtl™ can be secured shut with a locking device.
Three Attractive Colors -- The Turtl™ is available in green, brown, and beige colors.
---
Crawl Space access Wells
The EverLast™ access Well is our answer to those old, corroded metal window wells and rotted wood entryways that are such eyesores for some homes.
Once installed in your home, it will nicely finish off the outside of your home, complementing the landscaping around your house.
A bed of gravel is laid along the bottom of the well, which assists in drainage to help keep out flooding water.
This is a fantastic way to improve your home in an easy, cost-effective way!
EverLast™ access Well Specifications
Easy access To Crawl Space -- Each unit is 48" wide, allowing for easy access to your crawl space door or entryway.
Fully customizable -- The EverLast™ Access Well is fully customizable, allowing for 21", 36 3/8", and 51 3/4" depths.
Durability & Long Life-- Our access wells are designed with heavy-gauge, durable polyethylene, which will never rot, corrode, or need paint. Clean stone is poured into the bottom for drainage.
Looking for a price? Get a no cost, no obligation free estimate.