Interior Basement Drainage in Concord, Burlington, Keene
Dry a Wet Basement by Placing a Perimeter Drainage System Inside your Home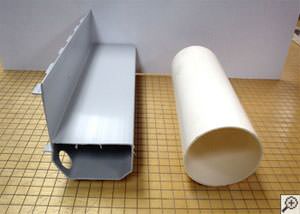 Basement drains come in many shapes and sizes, some which work better than others. Basement drains also have many names, including drain tile, weeping tile, French drain, interior footing drain, and other names.
The best way to keep your basement dry all the time is to install a drainage system on the inside perimeter of your basement.
An interior system can bypass the expense and damage to your yard that is caused by an exterior drainage system. Interior systems cost half as much, install in 1-2 days, and are installed with no need to excavate the outside of your home.
How Interior Basement Drains Work
To install a basement drain inside your home, the contractor will run a drainage system across all leaking walls and ideally along the entire perimeter of the basement or crawl space.
Once the water is collected, it's directed to a sump pump, which discharges the water out and away from the house.
What Works With Interior Basement Drain Systems
All basement drains are not alike, and some work much better than others. Northern Basement Systems would like to share with you some of the features of the best basement drains -- and why our system is the one for you.
If you're interested in more information, Northern Basement Systems is ready to help you. We offer free basement waterproofing quotes to homeowners throughout Vermont and New Hampshire. Our service area includes Concord, Burlington, Keene, Plattsburgh, NY, Rutland, Colchester, Essex, South Burlington, Bennington, Laconia, Brattleboro, St. Albans, Montpelier, South Woodstock, Lebanon and many areas nearby.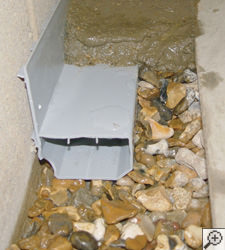 Drainage That Will Not Clog
Some drainage systems are installed with a 1" gap at the edge of the floor. These gaps can collect dirt and debris from the floor, clogging your system.
Other drains sit completely underneath the basement floor in front of the footing, laying in the mud underneath your home. These drains can easily clog with mud, causing the system to fail.
Features of Our System:
Sits on top of the footing, out of the mud
A bed of stone keeps system clean and provides a backer for the concrete
3/8" wall flange to accept wall seepage that will not clog with floor debris
---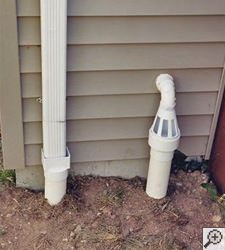 Frozen Discharge Line Protection
Drains and discharge lines resting outside of the home are liable to freeze during the cold winter months.
If your discharge line is frozen with ice, the water will have no exit, thus backing up into your basement or crawlspace and burning out your pump. You will be flooded. To ensure that a basement does not flood from this freezing discharge lines, the water needs another way out of your home.
Features of Our System:
A special grated opening outside your home allows water to escape
No valves to turn - IceGuard® works automatically
No water escapes during normal pumping
---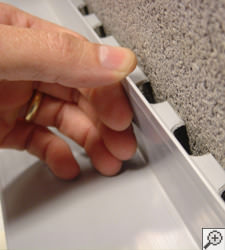 Built-In Wall Drainage (No Open Gaps on the Floor)
Basement walls can leak in many ways, including through cracks, pipe penetrations, through windows, or simply by having water seep through the concrete.
The hollow cavities in block walls can fill with water, creating a never-ending stream of water vapor and humidity in the home.
Features of Our System:
A 3/8" wall flange allows water to drain from the walls
Compatible with tucked-in wall vapor barriers
Neat and clean finished appearance
---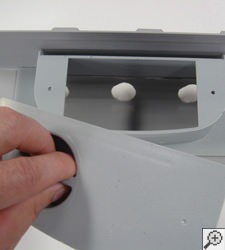 An Easily Accessible Port
Basement Systems' WaterGuard® Ports are useful access ports to the system. They have a knockout hole so you can drain a dehumidifier hose into the top of the system. They are also useful when inspecting or flood testing the system.
Features of Our System:
Easy-access ports to the drainage system
Drain a dehumidifier that isn't located near the sump pump
---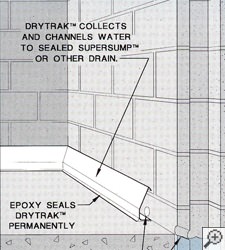 Baseboard Waterproofing System for Special Applications
Some homes are built with a monolithic foundation as part of their design. With monolithic foundations, the floor and footing are poured together as one piece. This means the edges of your basement floor are indeed your footing and are very thick at the edges.
Jackhammering a trench at the edges of a monolithic foundation may damage the footing. Therefore, a subfloor perimeter drainage system is not advisable. The solution for waterproofing a monolithic foundation is to install a baseboard drainage system on top of the floor.
A special dove-tail design and 2-part epoxy ensures the DryTrak® won't separate or be accidentally kicked or knocked loose from the floor. Other drainage may also be recommended through the center areas of the floor, especially if you have leaking floor cracks in a monolithic foundation.
Features of Our System:
Safe for monolithic foundations
Installs in only 1-2 days
Permanently bonded to the floor
Dual system options available for monolithic foundations with leaking floor cracks
Looking for a price? Get a no cost, no obligation free estimate.