IceGuard® Discharge Line System Near Keene, Concord, Burlington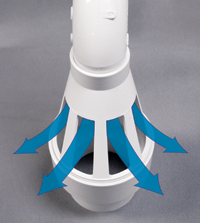 An escape route. Water escapes from the IceGuard® fitting only when the discharge line becomes clogged. Otherwise, water flows past the slotted openings into the drain pipe.
The perfect solution to clogged and frozen discharge lines
A proper discharge line for a sump pump shouldn't end just outside the foundation wall. If it does, discharge water will likely seep back into your basement or crawlspace before long, especially when temperatures drop below freezing.
Instead, a slightly sloped discharge pipe should run underground, a minimum of 10 feet, to daylight where possible (and to a drywell or drain field when not possible). Things sometimes go wrong, however, because drain lines are sometimes susceptible to freezing, especially when you live in Vermont and New Hampshire.
This can occur at a snow- and ice-covered outlet or inside the pipe itself. If the discharge pipe is blocked, your pump will continue to run but the system won't expel water. The result? A flooded basement.
Are you worried that your discharge line might freeze over when the temperatures drop? Northern Basement Systems can help prevent wintertime freeze-up of discharge lines.
We install the patented IceGuard® system, an anti-freeze fitting that is installed outside of your home and ejects water away from the foundation in the event that the sump pump discharge lines freeze or become clogged.
Why not make sure that you have a dry basement all the time? We install a variety of patented sump pumps protected by the IceGuard® sump pump discharge line system.
The specially engineered IceGuard® system solves the problem of frozen discharge lines to provide you with a reliable waterproofing system even during the coldest temperatures. IceGuard® is a perfect solution to sump pump discharge lines in Vermont and New Hampshire. Contact us today for a free installation estimate.
IceGuard® keeps water out of the basement even if the drain freezes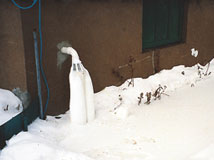 Protect the basement. When this home's discharge line was blocked by frozen snow and ice, IceGuard® allowed the water to escape during repeated pump cycles and saved the basement from being flooded.
If you live in the Vermont & New Hampshire area where the discharge line from your sump pump is susceptible to freezing in the winter, consider installing our anti-freeze device called IceGuard. It will allow discharged water to escape if the drain freezes (or clogs for any reason).
There are no valves to turn or hoses to attach - operation is automatic. Under normal operation, no water will spill through the open slots due to its flared design.
IceGuard® stops ice and snow from causing your waterproofing system to fail
IceGuard® is just one of the many sump pump features we install offered exclusively to us by Basement Systems. Our IceGuard® Discharge Line Protection device can be added on to any of our sump pump systems, including the SuperSump®, SmartSump™, and TripleSafe; providing homeowners with extra protection against basement flooding in regions where freezing temperatures are a problem.
Don't let your basement flood this winter from a frozen discharge line! We provide our
waterproofing products to homeowners all throughout Vermont & New Hampshire, including Burlington, Concord, Keene and cities nearby. Contact Northern Basement Systems today for a free cost estimate to have the IceGuard® anti-freeze discharge device installed in your home today.
Looking for a price? Get a no cost, no obligation free estimate.