Helical Deck Support Piers in Vermont & New Hampshire
Helical piers make a strong, fast foundation for decks, sunrooms and other small structures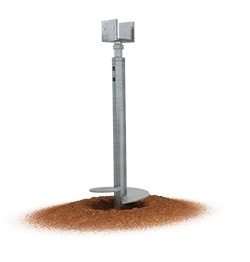 Support your deck permanently with our EZ Post® helical support system.
Decks are a great addition to any home, often adding value and entertaining space. However, the standard practice of installing poured concrete piers for decks, porches, sunrooms and similar structures has caused plenty of frustration over the years. Helical deck piers are the best alternative to traditional methods because they are fast, effective, and can be installed any time.
At Northern Basement Systems, we're here to fix your foundation problem. To get you started on the right foot, we'd like to provide you with a free foundation repair quote. We'll introduce you to one of our foundation specialists, who can answer any questions you have. We're proud to serve Burlington, Keene, Concord and the surrounding areas!
Why traditional poured concrete deck piers can't compare
Holes can't be dug and piers can't be poured in rainy or freezing weather. Post base hardware must be carefully placed in the top of the pier while the concrete is still wet. Construction is delayed while the concrete hardens.
Worst of all, when a concrete pier is mistakenly installed off the layout grid, you've wasted a significant amount of time and money.
Steel helical deck piers eliminate all the frustrations mentioned above. Designed to accept standard steel support brackets for 4x4 or 6x6 posts, these specialized piers do away with weather delays because they can be installed regardless of temperature and precipitation conditions. No excavation is required, and no concrete either.
Bad weather and poor soil conditions won't hamper pier installation
Common applications of this time-saving structural system include the following:
Decks
Sunrooms
Porches
Pavillions
Sheds
Storage buildings
Cottages
Mobile homes
Elevated walkways
Helical deck piers take advantage of proven structural engineering technology used for years to repair damaged foundations and overcome problems caused by weak and unstable soil conditions.
The helical-shaped plates on the shank of a helical pier are engineered so that the pier can be turned into the ground like a giant screw. Rotational resistance is measured as the pier is installed to ensure that the pier is solidly anchored in the soil.
Weak or unstable soil close to the surface isn't a problem because piers can be driven to reach strong, stable soil at greater depths. A skid steer or other compact hydraulic machinery can handle the installation.
No Excavation, No Mess and No Waiting
Builders who learn about helical deck piers soon become fans of this construction method. No digging is required, and if a pier is installed in the wrong location, it can simply be "unscrewed" and reinstalled. The need for concrete is eliminated, and there's no construction delay. Wood posts can be installed atop piers as soon as the piers are in place. Thanks to a factory-applied corrosion-resistant coating, these piers are manufactured to last.
Helical Deck Pier Installation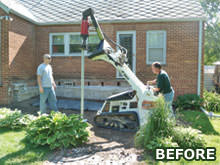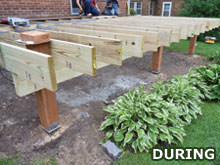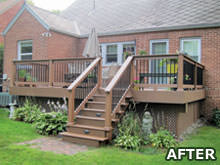 Get started on deck solutions today
Contact Northern Basement Systems today to schedule a free consultation for your next deck or small structure project. Find out how helical deck piers can streamline your construction process.
We're proud to serve Burlington, Concord, Keene, nearby localities such as Colchester, Essex, Rutland, Plattsburgh, NY, South Burlington, Laconia, Bennington, and the surrounding areas.
Looking for a price? Get a no cost, no obligation free estimate.